2019 Legacy of Leadership Award Honoree
The Honorable Attorney General of Texas,
Ken Paxton
Ken Paxton is the 51st Attorney General of Texas. He was elected on November 4, 2014, and sworn into office on January 5, 2015.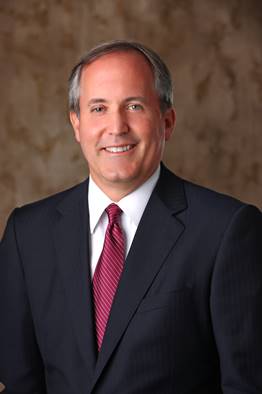 As the state's top law enforcement officer, Attorney General Paxton leads more than 4,000 employees in 38 divisions and 117 offices around Texas. That includes nearly 750 attorneys, who handle more than 30,000 cases annually – enforcing child support orders, protecting Texans against consumer fraud, enforcing open government laws, providing legal advice to state officials, and representing the state of Texas in court, among other things.
His first major initiative as attorney general was the formation of a special unit dedicated to combating human trafficking in Texas. During its first year of existence, the Human Trafficking and Transnational Organized Crime (HTTOC) section helped arrest the chief executive officer of Backpage.com and coordinated to facilitate the permanent shut down of Backpage.com, the largest online sex-trafficking marketplace in the United States.
Ken lives in McKinney with his wife, Angela, a guidance counselor at Legacy Christian Academy in Frisco. The Paxtons have four children: Tucker (21), Abby (19), Mattie (17), and Katie (15). Ken and Angela are members of Prestonwood Baptist Church in Plano.
Innovative Alternatives, Inc. is honoring Attorney General Paxton is instrumental in leading the fight against human trafficking and child abuse in general. Houston is unfortunately the nation's hub for the scourge of human trafficking which places every American child at risk. Texas however, has done more to stem this tide under the direction of Attorney General Ken Paxton, than any other state in our nation. AG Paxton inspires others throughout Texas to lend their expertise in this battle. Innovative Alternatives, Inc. will also honor those who fight this plague right here in our own back yard in the city of Houston with our Visionary Awards.
2019 Visionary Leader's Award Winners
Margaret Alkek Williams, legendary Houston philanthropist.
Joanne Herring, historical figure and civic leader.
Rania Mankarious, CEO and the powerhouse behind Crime Stoppers.
Jennifer Hohman & John Clark are developers and leaders of Houston 20, a group of nonprofits with a mission to stop human trafficking and assist its victims in the long road to recovery.
Founder's Visionary Award
As Innovative Alternatives, Inc. celebrates 30 years of dedicated service in bringing comfort to the most emotionally injured among us, we also recognize our Founder, Sharon K Bayus, MA, LPC-S.
Event held at the beautiful University of Houston Hilton Ballroom
Meet Our Awesome Emcee!
ERNIE MANOUSE
Senior Producer/Host
Houston Public Media
Ernie Manouse is a eleven-time Emmy Award winning TV anchor, producer, and host, known for the Houston Public Media produced series: InnerVIEWS with Ernie Manouse (which ran for 15 seasons on PBS stations across the country); the arts magazine show Arts InSight; and the nationally-syndicated, top- rated Downton Abbey-inspired talk show, Manor of Speaking. Ernie began his career in radio and has worked primarily in television for the last 22 years. With the re-launch and re-branding of Channel 8 as part of Houston Public Media, he can now be heard and seen on radio, TV, and the internet.